Palliativa
Raising The Standard of Care for Elderly Residents at One of The U.K.'s Top Care Homes
Task
Conceptualise, design, and build an elderly resident care system to deliver the best possible service.
Strategy

Iterative Sprints, Two Phase Launch

Design

UX/UI Design, Prototyping

Target Platform

Android Samsung Galaxy Tab
Technology Stack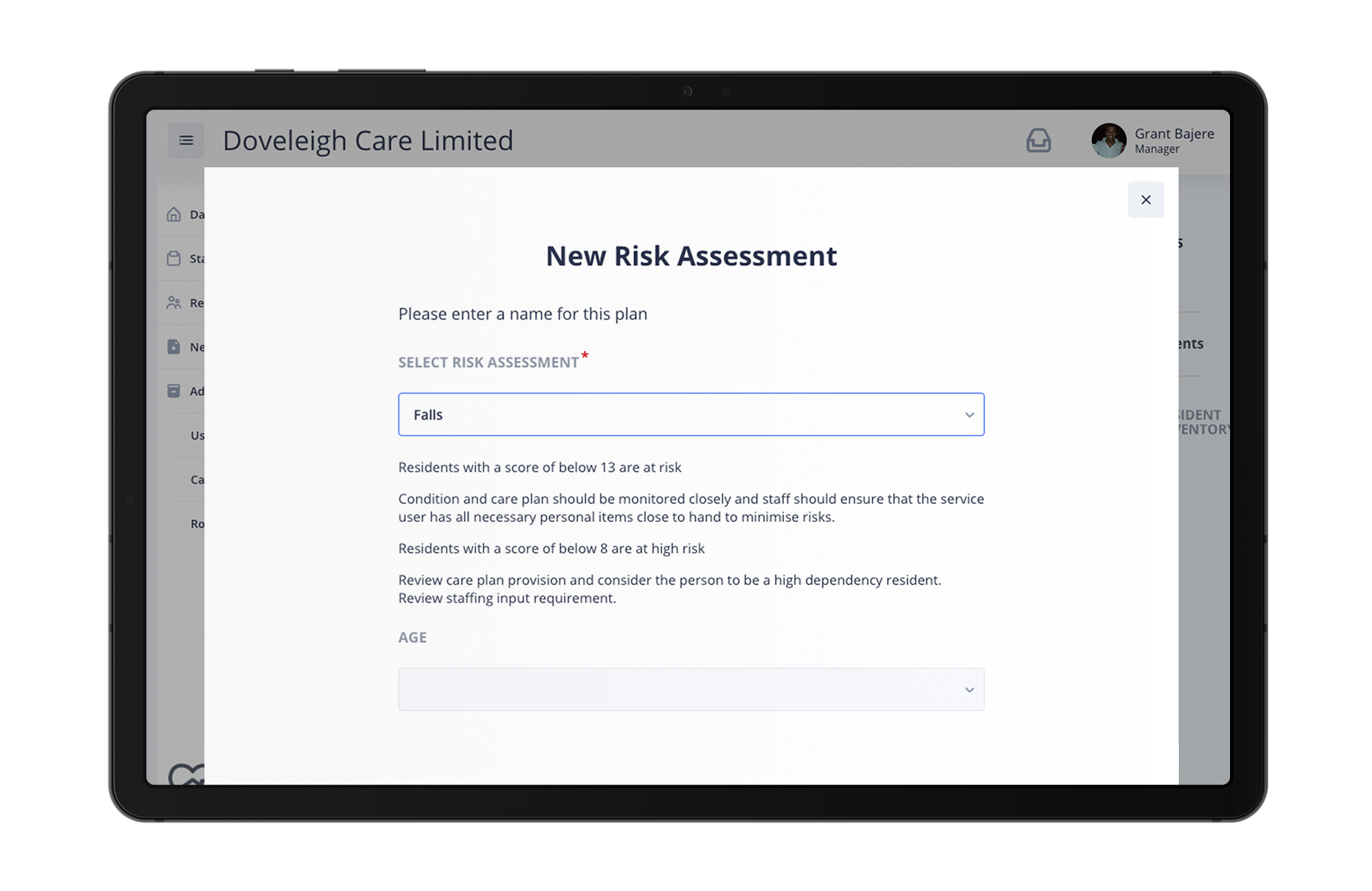 As a top-rated care home, Doveleigh Care specialises in delivering outstanding resident services for the elderly. With multiple homes in Southwest England, the company aims to provide the highest standard of care while treating residents with privacy, dignity, and individuality. In order to do this, Doveleigh employs highly trained nurses and specialists. But their success isn't just about compassionate care—employees need to be equipped with the right tools.
Until recently, Doveleigh providers were using pen and paper to create and maintain resident care plans. From medication schedules, dietary guidelines, hygiene routines and more, providers would just write down the information. But with so many nuanced details, their system had the potential for errors. Not only that, but with associates caring for multiple residents at different homes, critical information could slip through the cracks, resulting in missed medications or other mistakes.
We always try to put ourselves in the mindset of the user and be really aware of their level of technical knowledge.
It's quite the responsibility to create a product that will directly affect the lives of the elderly.
It's not just about the end product, but also about having an easy, effective collaboration with the client.
To continue providing an exceptional level of care, Doveleigh needed a new process. They found Pixel Funnel, and tasked us with creating an easy-to-use system. Doveleigh wanted a way for providers to track all patient care information, and the ability for other providers to access it whenever they needed. With no existing system in place, we took on the job of conceptualising, designing, and building the new product from scratch. Knowing it would be responsible for the wellbeing of elderly patients, we approached the project with the same level of care that Doveleigh employees provide their residents.
We always put a major emphasis on quality, but we really focused on that with this project. If a resident needs their blood pressure taken on certain days of the week, or their medications given at certain times of the day, we have to get that right.
For a user coming from pen and paper, we're going to build differently than for someone coming from tech. It's all about functionality for the end user.
Getting it right for the residents was critical, but we also prioritised making sure the product was easy to use for Doveleigh employees. Nurses and care specialists have varying degrees of technical experience, from none at all to proficient. So the system needed to be easily adoptable for all users.
Pixel Funnel began the process with discovery meetings. Over the course of multiple sessions, we learned about Doveleigh's existing system and goals for the new one. Their pen and paper method was ingrained with providers, so we wanted to model the new app directly off of that. This would help providers easily migrate to the new system.
After discovery, our designers went to the drawing board. They started designing an app that included everything providers were tracking—medical history, prescription schedules, nutrition information, and more. But by moving from paper to digital, we could incorporate more specificity, reminder alerts, and the ability for multiple providers to access patient information.
Once receiving the green light on design, our team started to build. Typically, we work on projects in segments. We build some features, deliver them to the client, and let the client take them for a test drive. The client gives feedback about what they like and what could be different, and then we tweak the build until the client is happy.
We continue iterating until the client has a fully functional app. Throughout the process, our team diligently tests our builds to work out any bugs. But even when we deliver the final product, our job isn't done. If users have feedback or want additional features, we're happy to update the product and continue to tailor it exactly to their needs.
After about a year of building, we launched the app. Now, Doveleigh employees have a powerful tool that minimises errors and allows them to provide the highest level of care to their residents.